Canadian Spektrix Specialists. API Wordpress Integration Partner and Custom Website Strategy, Design, Development and Ongoing Support.
Posted on 2020-11-03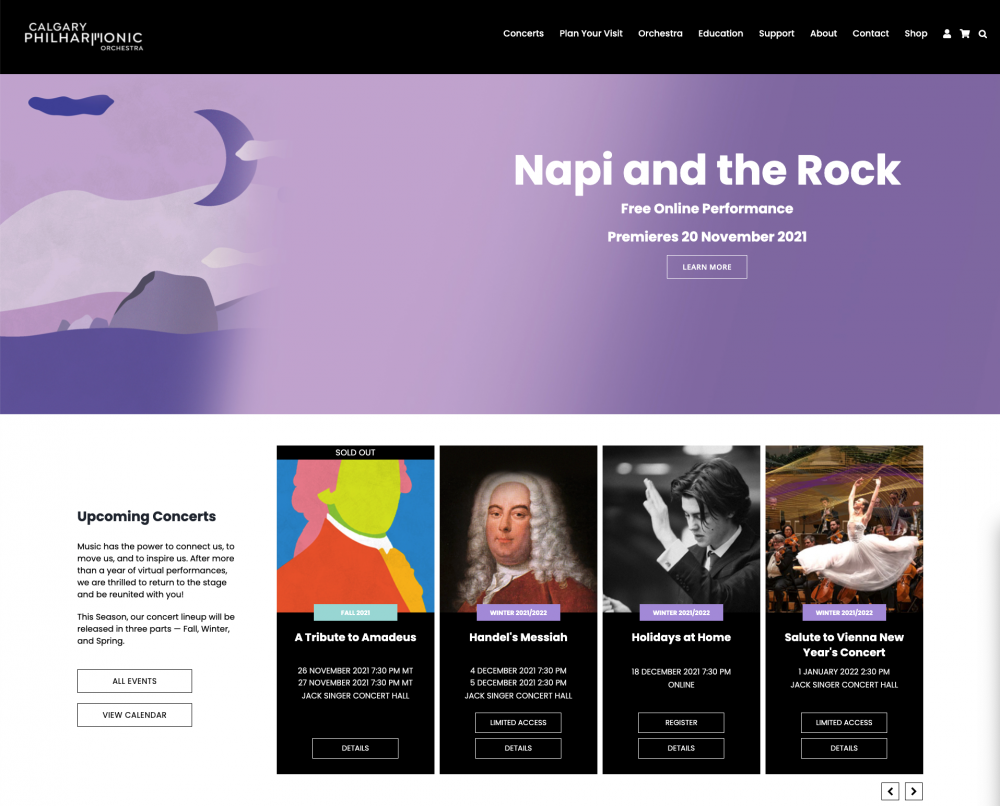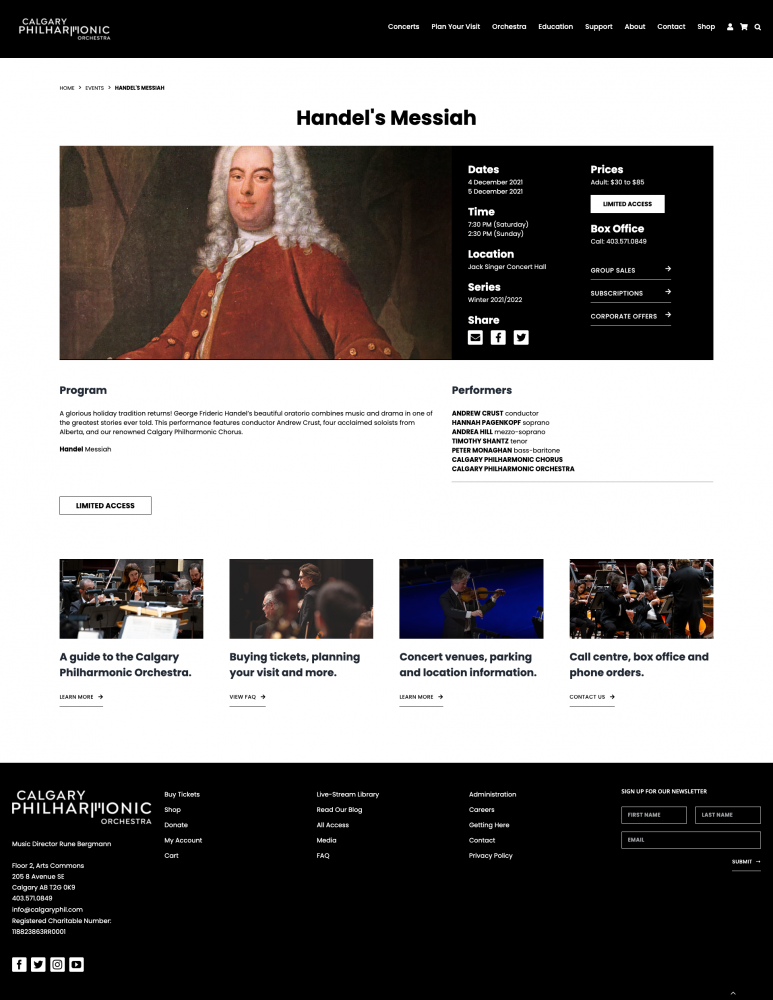 Service Description
Our Calgary, AB, Canada based web design and development team utilizes over a decade of experience to craft revolutionary digital experiences that attract, engage, and convert your perfect audience. We use forward thinking user experience design principles that are built from the ground up to drive conversions.
Spektrix features experience
Donations Web Component
Membership Web Component
Merchandise Web Component
Gift Voucher Web Component
Basket Web Component
Logged-In Web Component
Express Checkout
View from Seat
Sign up Form
Cross selling iframe
Multi-buy iframe
Spektrix API
Best in Class Integration examples
calgaryphil.com
Calgary Philharmonic Orchestra
The Calgary Philharmonic is a pillar of Calgary's vibrant arts community and since 1955, has grown to be one of Canada's most celebrated live music ensembles. Each Season, the Orchestra presents classical masterworks, pop favourites, bold collaborations, and cutting-edge new works. The Orchestra welcomes over 100,000 visitors annually and recently launched its live-stream initiative — an immersive, digital concert experience for audiences around the world.
Services:
Website audit, information architecture and hierarchy consultation, multi-concept website layout design and revision, Content Management System (CMS) integration, mobile-first responsive website development, third-party events booking, donations, and payment processor API integration, website hosting configuration and monitoring, committee correspondence, website training for client team, security, backups & disaster testing, and ongoing support & optimization.
The Calgary Philharmonic was transitioning to a new events and ticketing software provider at the time of our initial engagement. In addition to requiring an overhaul of their website backend, they were also looking for a complete website re-design to match their new branding, and strategic look at page structure, hierarchy, and overall architecture. We produced a detailed timeline with milestones to keep all aspects of the project on track that included committee meetings so all stakeholders were kept in the loop and up to date. After a thorough site audit, we produced a revised sitemap to simplify and optimize user navigation. Wireframes were created to outline the various elements of each key landing page to optimize user flow and achieve their key conversions goals. These conversion goals included buying tickets, facilitating donations, displaying season event details and schedules, and promoting their education and community initiatives. The website layout was designed carefully to consider the new branding to keep the vision cohesive across all pages. Utilizing Wordpress, we were able to develop a fast loading and intuitive website with mobile first that works well on all devices, and updatable by the Calgary Philharmonic team. Finally, we worked closely with the third party ticketing and events software provider to integrate with their API for a cohesive and seamless checkout experience for tickets, seat mapping, donations, and online store front.
With the launch of the new website coinciding with their latest season, we've been happy to continue to provide ongoing support, optimizations, and updates with this amazing organization.
Do you provide ongoing Support and Maintenance?
Yes
Monthly retainer costs
500 GBP
What is the relationship going to be like?
The Sland team is made up of experienced marketers, project managers and developers who are passionate about building bridges between our client's business goals and transformative marketing solutions. Clients choose us because we understand their needs and provide them with fresh thinking, leading to impactful results. As a team, we are collaborative, open-minded and close-knit.